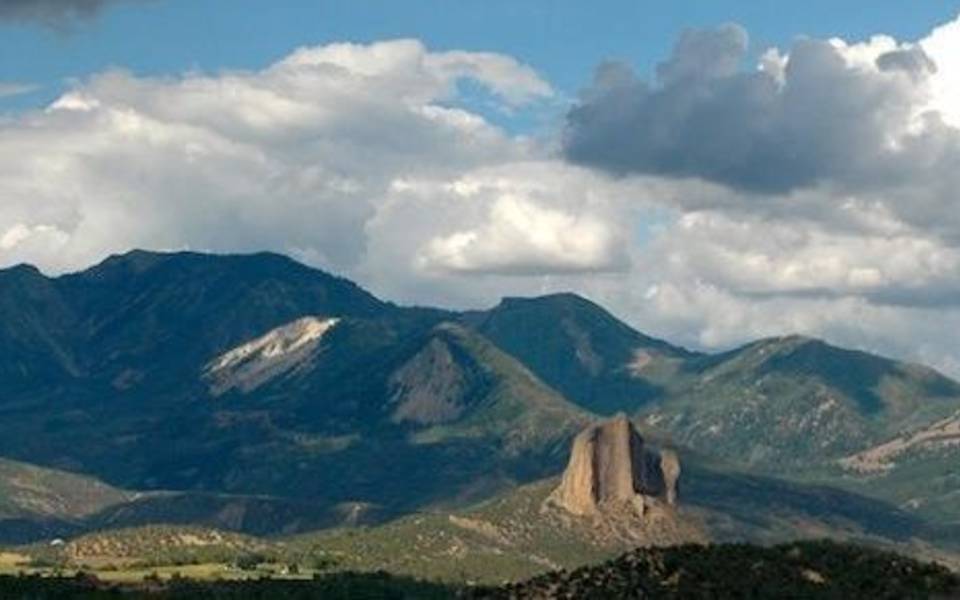 Last Frontier Lodge
Bed and Breakfast serving Paonia, Hotchkiss and Crawford on the West Elk Loop ( http://www.coloradodot.info/travel/scenic-byways/southwest/west-elk-loop ) scenic byway.   Overlooking  Crawford State Park ( http://www.parks.state.co.us/parks/crawford/Pages/CrawfordHome.aspx )'s four hundred acre lake with views into the West Elk Wilderness ( http://www.wilderness.net/index.cfm?fuse=NWPS&sec=wildView&WID=641&tab=General ) (the scene above snapped from our porch).  It's a short drive via county road to Black Canyon of the Gunnison National Park ( http://www.nps.gov/blca/index.htm ). Nearby are hiking, biking, cross-country skiing, water skiing, snowmobiling, fishing, hunting, boating, and sightseeing.
Rustic-chic log lodge with eight guest rooms sleeps up to twenty-three.   Sit down country-style breakfast.   Wrap-around decks on both levels.
Restaurants are close by in Colorado's North Fork Valley ( http://www.northforkvalley.net/ ).  While the natural beauty is an obvious attraction, it's the diverse culture of the area — formed around the triangle of communities of Paonia, Hotchkiss, and Crawford — that affords the endless fascination.  The Valley is a premier location for production (and consumption) of fresh, wholesome foods and wines.  Everyday, it seems, there's a festival of some sort, bringing together locals and visitors alike.  Discover who is here and what they're doing; you're sure to wind up with friends here.

40300 D Rd, Crawford, CO 81415

970-921-5050