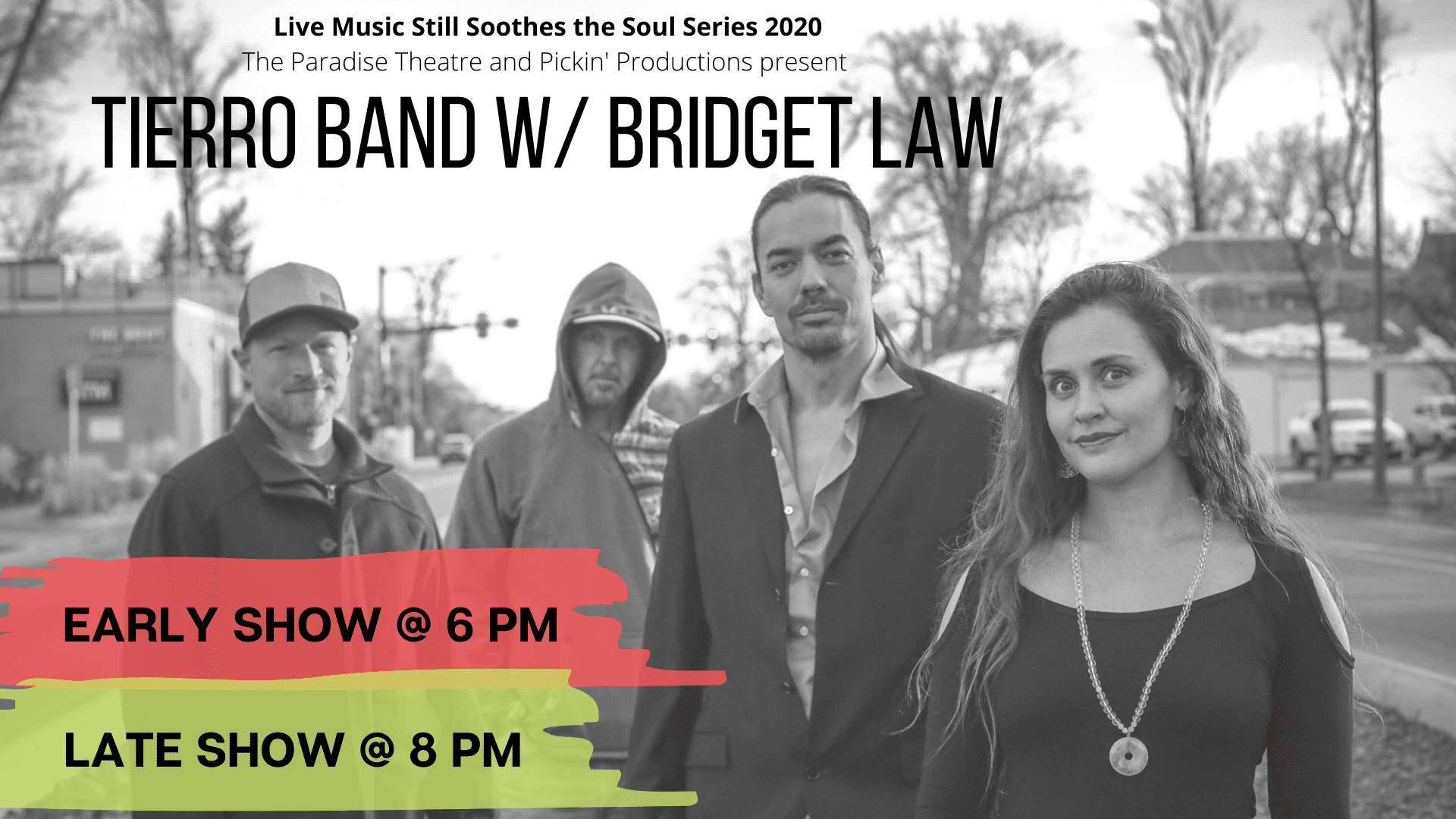 The Paradise Theatre and Pickin' Productions present an intimate 4-concert series in beautiful downtown Paonia, Colorado.
Live music is scarce in these times and we want to bring it to you as safely as possible. Each show will have two seatings of 50 people each. The performers will play one set with an encore at each seating. Chairs will be set-up with social distancing and masks are required unless you are seated. The shows will be in Poulos Park ~ next to the Paradise Theatre. Learn more & purchase tickets online. 
Tierro Band
Tierro Lee plays guitar and has been composing instrumental music for 2 decades. This band represents Tierro's most heartfelt compositions reminiscent of various world music styles including Arabian, Celtic and Latin scales. Accompanied by Bridget Law (member of Elephant Revival) on fiddle and vocals, Charlie Parker Mertens on bass and Jonny Jyemo on drums, this super group naturally stokes the energetic fire and offers an uplifting dance experience with out of this world improvisation.
Tierro Lee is a guitarist, studio owner, songwriter and event producer. Tierro has been playing and working in the music industry for 30 years. As a guitarist, he founded and produced the critically acclaimed rock band Kan'Nal which released 3 CDs, a DVD and performed internationally. Later he toured the globe with blues Legend Otis Taylor as lead guitarist and played and produced countless recordings. As an event producer, he was instrumental in launching the ARISE Music Festival and THRIVE festival Hawaii.
Bridget Law was born and raised in Colorado. She loves the mountains and the music that hails from them! Playing the fiddle has been her passion since her youth. She is a founding member of the group Elephant Revival which formed in 2006 and has toured extensively throughout the US, Canada and beyond. Bridget's musical aspirations have led her on stage with many well known musicians such as Bela Fleck, Sam Bush, Lyle Lovett, Ani Difranco, Michael Franti, Little Feat, George Clinton, String Cheese Incident, Yonder Mountain String Band and more. Original music is her passion and she enjoys supporting creative people as they dive into new realms of music.